In Google's web page dictionary, the second page is synonymous with invisibility. This is why content creators are always keeping an eye on their website rankings and work their best to keep their website on the first page. Although Google's algorithm keeps changing there are still a few tricks that you can use to bring your website to Google's first page.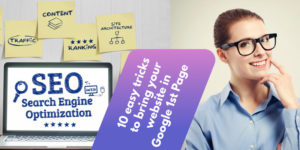 Here are 10 tricks to bring your website to the first page.
#1 Pick a Keyword
Google's algorithm focuses on giving priority to the websites that are most relevant to the topic that the users are searching for. They do this with the help of keywords. Picking a suitable keyword is the best way to bring up your rankings organically. Make a list of keywords that work well in correspondence to your industry. This works wonders in bringing traffic to your website elevating its relevance.
#2 Scope out the competition
In any industry, some people are offering the same products or services that you are. This can cause your website to be lost in a sea of the thousand other similar websites. In such a fierce competition, scoping out your competition to see what you are up against always comes in handy. Check out what marketing campaigns are working for them, what isn't, and how can you use this information to your advantage.
#3 Content creation
Content marking is one of the most reliable forms of marketing in this day and age. People are very drawn to this type of marketing as it focuses on providing them with reliable and knowledgeable information. This content can be in the form of blog posts, landing pages, category pages, or a product page. You can also use different types of mediums like text, images, or videos to bring more visibility to your content.
#4 Estimate the number of backlinks you will need
Several studies have shown a positive association between backlinks and organic traffic search. Backlinks play a key role in increasing your website traffic organically. The higher quality backlinks you have in your link, the higher are your chances of ranking on Google's first page.
The exact number of backlinks that a post requires cannot be estimated correctly as not backlinks are created equally. However, several tools give you a rough estimation of how many backlinks your post requires.
#5 Add internal links
Apart from adding backlinks to your post, adding internal links has also been known to positively impact your ranking on Google's page.
#6 Mobile Optimization
Mobile phones are handy, this is why a majority of people use their phones to visit any website. If your website is not mobile optimized, it is less likely that people are going to return to your website. This, in turn, hurts your rankings as Google's algorithm also considers mobile optimization for web page rankings.
#7 Page Loading Speed
With the plethora of other websites available, you are constantly fighting for attention. Having slow loading speed for pages makes a user click away before even visiting your website. Make to not clog your website with too many high-resolution graphics which may slow down your page loading speed.
#8 Use descriptive URLs
The URLs that you use should always be static and should always use descriptive keywords. Refrain from using random letters or numbers for your URLs.
#9 Use 301 directs instead of 302s
301 directs indicate that your content has been permanently moved and all of the SEO workings and rankings should be transferred to the new page.
#10 Use Title Tags
Do not forget that title tags are still relevant. Make sure that each of your pages uses a distinct and descriptive title tag to let Google and your visitors know what it is about.