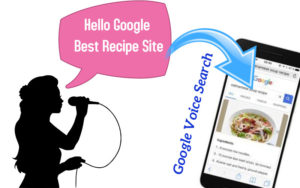 How many times have you said, "Hey, Google? "Today? Well, you wouldn't be the only one! Voice search is on the rise and we're directing our questions to not just smart speakers but our phones as well. And in which case, it will likely affect your rankings if you don't in the future Optimized for Voice Search! Read on to learn more about voice search and how your keyword choices can make all the difference.
What is voice search?
The usual pitch would be – this is the future, but let's stick with more informative points. Voice search is a speech recognition technology that enables users to perform searches by speaking directly to their supported devices.
These range from smartphones and computers to household appliances such as Amazon's Alexa, Microsoft's Cortana, Apple's Siri, Google Assistant and more.
Overall, Google voice search has exploded in the last few years, so it is a must to incorporate voice search into your digital marketing strategy. Whether you're working with a web design company or building your website yourself, make sure you optimize it for voice search from the ground up.
Website voice search optimization in 2021
The question is not if you should, but when to optimize your website for voice search. The answer is short. NOW while you can still join the pioneers leading the 2021 prosecution. Voice search is expected to change the future of e-commerce, with voice purchases expected to reach $ 40 billion in 2022. What are the main benefits of optimizing your website for voice search?
Question-based keywords
Typically, when users talk and ask questions on a smart device, they are asking the entire question rather than using a series of keywords. We'll start by using words like "who," "why," "where," "what," and "how," so center your content around questioning statements. Remember, if you do a voice search, you will get ONE answer instead of showing you the entire page of search results. So you need to do some research to properly target your audience.
It goes both ways because by listening to your prospect's questions you can tailor your content accordingly and optimize it to your advantage with the right question-based keywords. The best way to find these keywords is to use Google's suggestions for "Search related to [insert keyword here]".
Better rankings: The results of the voice search usually rank in the top 3 search results pages (SERPs). Optimizing your content for voice search will attract more visitors.
Higher Income: More visitors mean more conversions and more conversions mean more income. It's simple math.
Greater Authority: As you begin to rank for voice search and grow your audience, you will increase the authority of your website.
However, for this to work as expected, you need optimized content and voice search SEO. As always, keywords are key.
The following is required for referencing the voice search:
Question-based keywords:
Use question-and-answer phrases to provide concise answers to these questions    Long-Tail Keywords: Think about the user's intent and focus on action requests    Conversation content: use natural language
Long-tail keywords
Use the same logic when implementing long-tail keywords. Most voice search users switch to long-tail keyword searches because natural language searches are often longer and too specific. Why are ecommerce giants like Amazon using long-tail keywords?     They offer high conversion rates as long-tail SEO accounts for 70% of all online searches.    They are easier to rank due to the lack of competition.    People use long-tail keywords when doing voice queries.
Conversation content
Most users interact with their smart speaker / virtual assistant like a human. Oral queries are usually not as concise as the search queries we normally enter. The surest way to optimize your content for voice search is pretty intuitive: write while you speak. Avoid using jargon or overly complicated words and avoid the often sterile and corporate tone. Your content should be simple, relevant, tell a compelling story, and most importantly, provide solutions to your users' needs.
Use your Google My Business page
We can assume that most people end their voice searches with the words "near me". The main factor that determines whether we rank for these searches is the Google My Business listing. This is one of the easiest ways to get your target audience noticed, but you need to make sure that your content and background information is complete and relevant. You need to tell Google where your business is when someone asks about similar businesses in your area. Enter your name, address and telephone number (NAP) in the list and select the correct company category and area code. In addition, you can try to rank these searches "nearby" by targeting local keywords with location-specific phrases that generate results related to the same geographic location
Voice search Mobile convenience
Voice search is more mobile than ever. Google voice search is constantly expanding its voice capabilities. It is currently available in over 100 languages ​​on mobile devices. In practice, 56% of all voice searches come from smartphones.
Not to mention, Google's new mobile-first index based the rankings on the site's mobile phone. As Google notes, mobile-first indexing means that Google primarily uses the mobile version of the content for indexing and ranking. In other words, only mobile responsive websites have a chance to appear on the first page in mobile search because they are faster and dramatically improve the user experience (UX). If your website content is optimized for mobile use, your business is likely to be among the first to find intelligent voice search assistants and suggestions.
Page load speed
One of the crucial ranking factors is page loading speed, regardless of whether you are optimizing for voice search SEO or not. However, entangled in more complicated aspects of SEO, many forget the basics. Nobody likes slow loading websites, let alone Google hates them the most.
Typically, if your website takes more than three seconds to load, it says "Houston, we have a problem". The same goes for SEO voice search. It's easy; Rank higher by improving the speed and performance of your website.
Smart speaker – the driving force behind voice search
It wasn't long ago that we marveled at Alexa's abilities. Nowadays, smart speakers are becoming an everyday household item.
In fact, it is estimated that smart speaker usage will grow exponentially, as more than half (55%) of US households are projected to own a smart speaker by 2022.
Fortunately, we are still a long way from the potential Skynet (Terminator) scenario, but the remarkable technological advancement in artificial intelligence (AI) and machine learning has changed the way we interact with smart devices.
As a result, more and more tech companies are launching their own smart speakers and shaping the future of Internet search.
For example, Google's RankBrain, a component of Google's Core Algorithm, can recognize words and phrases to more accurately predict results. When it comes across a new query, it can select the best related results and provide appropriate answers.
Conclusion
Back to our original questions? What did we learn? Is voice search more practical, convenient, or just trendy? Everything before. Voice search is faster, easier, and easier. Voice searches are increasing every year. The impact on consumer behavior is so great it is immeasurable, and digital marketers need to be prepared for its impact in order to meet user expectations. The tech giants leading this shift have already optimized voice search. So it is time to set sails and follow them closely, as long as the wind is right.